2021: Facile and reproducible microfluidic device for making monodisperse giant vesicles!!
R. Ushiyama, K. Koiwai, H. Suzuki, "Plug-and-Play Microfluidic Production of Monodisperse Giant Unilamellar Vesicles Using Droplet Transfer across Water-Oil Interface," Sens. Act. B: Chemical, 355, 131281, 2021.
Giant unilamellar vesicles (GUVs) are cell-sized compartments widely used in biological and chemical applications. The monodispersity of GUVs is essential for quantitative analysis and experimental reproducibility in biomimetic microreactor studies. In this study, we established a highly reproducible plug-and-play microfluidics-based method to generate monodisperse GUVs without surface treatment of the channel or precise flow-rate adjustment. In the microfluidic channel, we generated water-in-oil (W/O) droplets through hydrodynamic flow focusing and transferred across the W–O interface to form thin-shelled water-in-oil-in-water (W/O/W) droplets as precursors to GUVs. The success rate of the W/O droplet transfer reached nearly 100% by stabilizing the co-flow of oil and water and adjusting the curvature of the W–O interface. Owing to interfacial energy minimization, the thin oil layer of the W/O/W droplets dewetted and detached to form GUVs. We performed a membrane-protein insertion assay to confirm the unilamellarity of the GUVs and their shrinkage caused by osmotic action.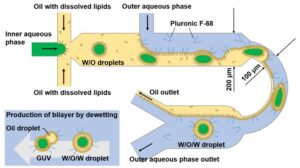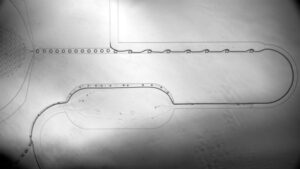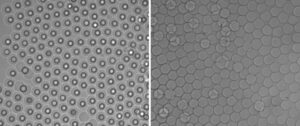 Let us know if you want to try this microfluidic device for GUV-formation.
We will send you the CAD design.
2021/11/18