2021: Size-based sorting of Kuruma shrimp hemocytes!!
"Applying deterministic lateral displacement cell separation on immune cells of Marine shrimp"
Published in Tomoki Murakami, Keiichiro Koiwai, Hiroaki Suzuki, Sens. Act. B: Chemical, 347, 130587, 2021.
For analyzing the immune system of an organism, it is necessary to classify and separate distinct types of cells based on their characteristics. Hemocytes, immune cells of shrimp, are still difficult to classify and separate with existing technologies due to the lack of obvious morphological characteristics or type-specific markers. We adapted the deterministic lateral displacement (DLD) method as a tool to separate the hemocytes of shrimp because the previous work suggested there is a relevance between the size of hemocytes and their functions. The
image and flow cytometry (FCM) analyses confirmed that this microfluidics-based technology enabled the size-based separation of cells having a broad size distribution at the buffer condition suitable for the marine species. Cells separated with this chip retained their morphological information, and qRT-PCR was successfully conducted to reveal the differences in expression levels of immune-related genes between cell populations of different sizes. The present results prove that the DLD method can be an effective tool for the analysis of non-model organisms, in which the characteristics of cells are not well established and studied.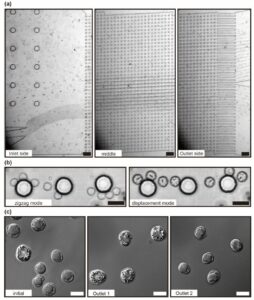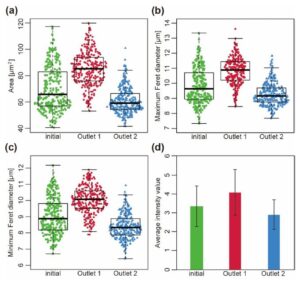 2021/8/10