"Elucidating the Membrane Dynamics and Encapsulation Mechanism of Large DNA Molecules Under Molecular Crowding Conditions Using Giant Unilamellar Vesicles"
Published in M. Tusgane & H. Suzuki, ACS Synth. Biol. 2020, 9, 10, 2819–2827.
The conservation throughout evolution of membrane-bound structures that encapsulate genomic material indicates the existence of a simple, physical mechanism that facilitates the enclosing of long-stranded DNA by lipid bilayers. This study aimed to elucidate such a mechanism by investigating how molecular crowding promotes the spontaneous enveloping of model DNA into lipid bilayer membranes. Using fluorescence microscopy and giant unilamellar vesicles (GUVs) we showed that a 166 kb DNA molecule coencapsulated with a model crowder attaches to the inner membrane of the GUVs as they osmotically deflate and after the DNA–membrane complex buds out. The set of results is consistent with the hypothesis that the depletion volume effect is responsible for the spontaneous encapsulation of DNA in the GUVs. This phenomenon may offer novel insights into the basic mechanisms governing membrane encapsulation of long-stranded nucleic acids found in celluar sytems that are independent of genetic control.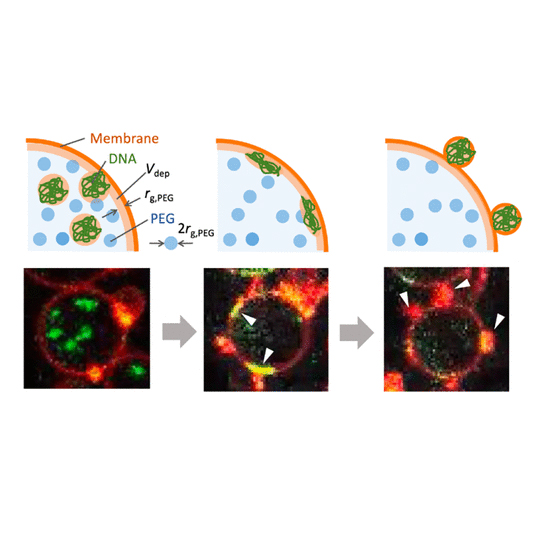 "Selective self-assembly of three-component system based on hydrophilic/hydrophobic patterning"
Published in T. Okuyama et al., Sensors and Actuators A: Physical, 312, 11214, 2020.
This paper presents a demonstration of the selective bonding of three different millimeter-scale components by using complementary patterning of hydrophilic and hydrophobic surfaces. The hydrophobic surface of millimeter-scale components fabricated from hydrophobic polydimethylsiloxane (PDMS) was made partially hydrophilic with a designed pattern by exposure to an excimer light through a stencil mask. The oil, as an adhesive, was only deposited on the hydrophobic surface. We prepared 30 components with 3 patterns, which were agitated in water by using a computer-controlled propeller stirrer. As a result, we obtained a significantly higher yield of correct bonds compared to erroneous bonds under an appropriate stirring condition. The result can be explained through the contrast in bonding strength between the correct and erroneous bonds. The design principle of using concentric patterns serves as a basic strategy for realizing programmed self-assembly with selective bonding patterns.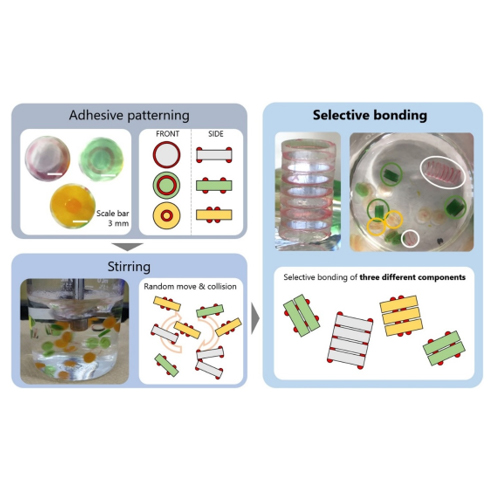 "Deformation Dynamics of Giant Unilamellar Vesicles in the Large Surface-to-Volume Ratio Regime: The Emergence of Neuron-like Morphology"
Published in K. Koseki & H. Suzuki, Langmuir 2020, 36, 22, 6238–6244.
Deformation of liposomes, or lipid vesicles, has been investigated extensively in terms of the thermodynamic equilibrium of the bending energy of the lipid bilayer membrane. However, the range of such deformation in previous literature has been limited within the moderate surface-to-volume ratio of the vesicles, in which axisymmetric shapes are dominant. Here, we show that neuron-like morphology, in which many lipid tubes extend radially from the mother vesicle, becomes dominant upon the slow osmotic shrinkage of giant unilamellar vesicles (GUVs) initially larger than several tens of micrometers. We show that, in the time-lapse confocal imaging, the emergence of lipid tubes is initiated from the instability that appeared along the annular rim of the flat stomatocyte shape. Since these deformation dynamics into the neuron-like morphology resemble that of the milk-crown formation in liquid splashing, we discuss that the Rayleigh–Plateau capillary instability drives this transformation into a nonaxisymmetric shape.